This post contains affiliate links that may be used at no extra cost to you. Thank you for your support!
This post contains affiliate links that may be used at no extra cost to you. Thank you for your support!
Good morning crafty friends! I am so excited to be showcasing another Concord and 9th bundle, the Flower Patch Turnabout Bundle! I have never tried Turnabouts before, and I fell in love. They are so much fun, and I love the unending possibilities you can get by just varying colors. Here is where you can buy the Flower Patch Bundle (or just the stamps or dies) at Concord and 9th: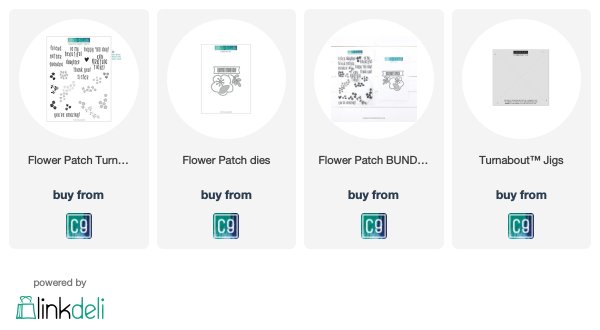 For my first card, I used the banner and 'Love You So' dies to create a greeting as a focal point. I love how the words can be cut right out of the banner. I adhered the green banner to a white one so that the words would show through.
The timing of this release was so perfect, since now I have Mother's Day cards for my mom and grandma! These cards are so fun and springy, and it is awesome how many different occasions you could use these products.
Here's a little closeup of the background that you get with the Turnabout. I really wanted to keep everything bright and summery, and I love how the bright green envelope brings out the bright green ink and leaves.
I kept this card simple by cutting two rectangles out of my turnabout panel, and popped up each rectangle for dimension. The little pink banner gave a nice simple greeting to this more subtle card.
I love how Concord and 9th puts single stamps from the Turnabout in their stamp set. With the little flower and leaf images, I was able to stamp tone on tone over the envelope flap. Decorated envelopes are so much fun!
I changed things up a bit on this card and didn't use the turnabout, keeping the big, die-cut florals the focal point. I paired a stamped envelope with this card as well.
I absolutely LOVE this bundle, and I know that I'm going to be grabbing it whenever I need to make a graphic, floral card for so many different occasions.
Don't forget about the amazing freebie items that Concord and 9th is offering during the month of April! The gorgeous Gem Dies are given for free for an order that is $60 or more and the Gem Turnabout Stamp is given in addition for an order $120 or more!
Thank you so much for stopping by! I had so much fun playing with this bundle, and I can't wait to use it even more. If you would like to make your own fun, floral cards, click on the product link below to purchase your own!